The United States Coast Guard Bahamas/U.S Embassy office has engaged Advanced Web Site Publishing (AWSP) to help them visually depict the amount and types of cases they have worked on in their region during the course of one year.
Commander Billburg of the U.S. Coast Guard states "The SAR and AMIO picture is essential to understanding our multi-mission response ops and what really goes on around in the Bahamas."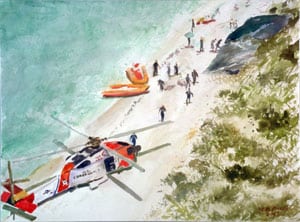 The Flash movie format will illustrate all Search and Rescues (SAR's), Alien Migrant Interdiction Operations (AMIO) and Maritime Drug Interdictions in cooperation with OPBAT.
OPBAT is a combined Coast Guard, U.S. Army, U.S. Drug Enforcement Administration (DEA) and Bahamian operation. The operation incorporates assets and personnel from each entity to combat drug smuggling to and from The Bahamas. OPBAT is a helicopter oriented effort that uses Coast Guard and Army HH60 aircraft, manned with DEA and Bahamian law enforcement agents, to interdict drug smugglers using the Bahamas as a transit zone. OPBAT forces are commonly used against drug air drops (or mothership hand offs) to waiting go-fast style boats. Aircraft and crews are stationed at locations throughout the Bahamas and are tasked by a central OPBAT command center in Nassau.
The Flash based movie will calculate a running tally of the lives saved and assisted plus it will give totals of:
The amount of drugs seized
The types of drugs seized
Arrests Made
Keith Hickman, President of Advanced Web Site Publishing stated, "We are very proud to be of assistance to the men and women who risk their lives to guard our countries borders. We will continue to work with the USCG and other government agencies that can use our expertise."
https://www.awsp.com/wp-content/uploads/2016/05/keithwchopper.jpg
450
600
Keith Hickman
https://awsp.com/wp-content/uploads/2019/12/awsp-logo5.png
Keith Hickman
2007-05-05 04:00:32
2016-05-05 04:15:02
U.S. Coast Guard Engages AWSP for New Mission