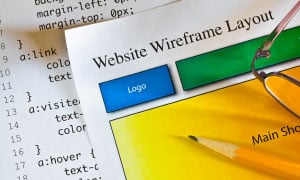 Is Your SiteBuilder Site Search Engine Friendly?
The SiteBuilder developers have worked very hard to make our online Website Builder responsive and search engine friendly, however,  there are changes you can make to circumvent  those efforts.
These are the top 5 things to consider.
One of the worst things you can do is setup an intro screen or a "splash" page before you get to your main content. Many times this is Flash that has no readable content for the search engines to pickup. Your home page is the most relevant page to the search engines, do not waste it on a splash page.
Using I-Frames. Do not place content in I-Frames. The search engines do not recognize this as on page content and will not index it.
Do not use images instead of written text on your pages. Search engines cannot index text that is in an image. Make sure you do not overuse images where you could use written text or CSS that the search engine can index.
Slow page load times. Google is starting to look at page load times. Heavy pages may be penalized. Therefore, you need to keep the page loading fast as possible.  If you need to put images on the page make sure they are optimized locally (jpg compressed to 60%) on your local machine before uploading  We highly recommend Photoshop or Photoshop Elements.
A JPG should always be compressed.  For instance, using Photoshop or Photoshop Elements a 1.3 meg photo can be compresses down to 60k without losing definition.  The quality setting should be set at 60 when compressing JPG images.  All good image editing software will have a similar feature.  A good image editing program is a must for web design.
Pasting from Word and using HTML tables.
a) Pasting from MS Word will also paste in the markup from Word which is not HTML .  This can throw the design and responsive nature of the site off.  If you paste from work, use the paste from Word tool that strips out the Word markup or paste to notepad, them copy from notepad and paste into your content area.   This effectively strips out the Word Code.
b) Using HTML tables instead of CSS can cause the site to display improperly in devices, essentially mucking up the responsive nature of the site.  There is no need to use tables anymore.   CSS is the way to go to keep your site responsive.
These are just a few tips to give you a good foundation for starting your SEO program.
https://www.awsp.com/wp-content/uploads/2015/09/webdesign-lg.jpg
180
300
Keith Hickman
https://awsp.com/wp-content/uploads/2019/12/awsp-logo5.png
Keith Hickman
2015-09-21 16:24:55
2015-09-22 03:55:06
Is Your SiteBuilder Site Search Engine Friendly?